FDCP, DFA to Hold Film Festival Tribute to National Artist Kidlat Tahimik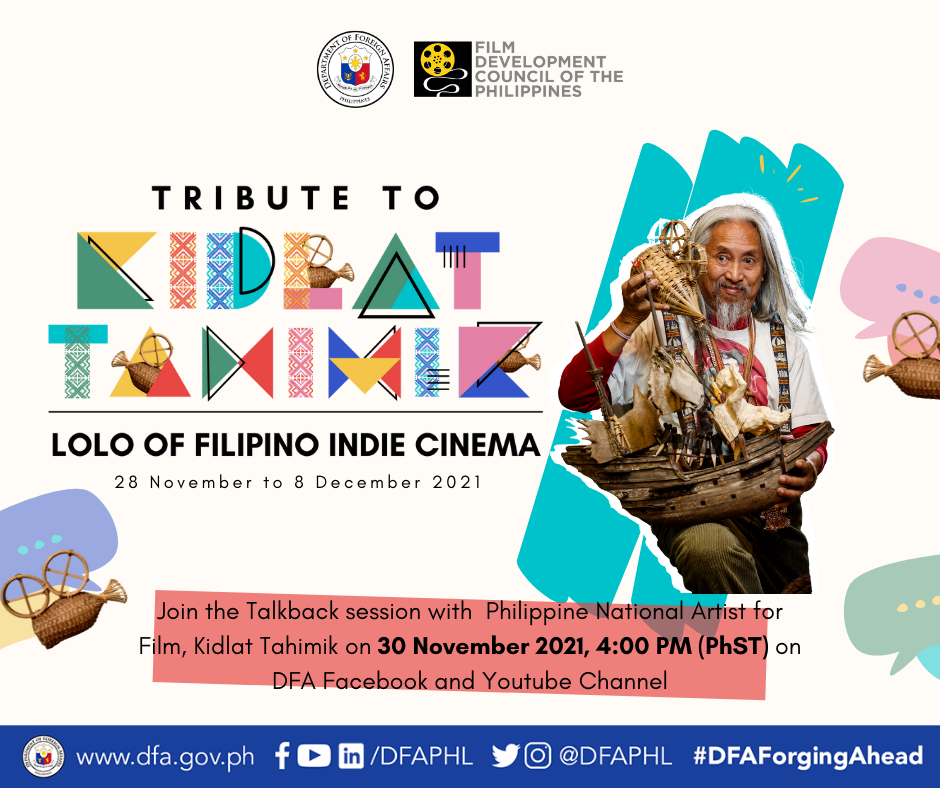 MANILA, PHILIPPINES, NOVEMBER 26, 2021 — To honor the invaluable contributions of National Artist for Film and Broadcast Arts Kidlat Tahimik to the development of independent Philippine Cinema, the Film Development Council of the Philippines (FDCP) and the Department of Foreign Affairs' (DFA) Public and Cultural Diplomacy arms will hold free screenings and a talkback session on November 28 to December 8.
The National Artist, born Eric de Guia, is known for his films that often critique neocolonialism, and his bamboo camera which symbolizes his exceptional local storytelling. The "Tribute to Kidlat Tahimik: Lolo of Filipino Indie Cinema" aims to boost the creative industry and showcase Philippine culture by featuring his award-winning and internationally-acclaimed films. 
Kidlat Tahimik has received accolades from local and international award-giving bodies such as Cinemalaya, Gawad Urian, Prince Claus Fund, Amiens International Film Festival, and Berlin International Film Festival through decades of his career. 
Five notable works from the National Artist will be screened for free on the Vimeo Channel including the following: Perfumed Nightmares (1977), Sino Lumikha ng Yoyo? Sino ang Lumikha ng Moon Buggy? (1979), Turumba (1981), Bakit Dilaw ang Gitna ng Bahaghari? (1994), and Balikbayan #1: Memories of Overdevelopment Redux III (2015). 
Additionally, the "Talkback with Kidlat Tahimik" will be moderated by professor, writer, and producer Jag Garcia that will take place on November 30, 4 PM via Zoom. 
"Through this retrospective and talkback session with National Artist and Father of Philippine Independent Cinema Kidlat Tahimik, made possible by a partnership with DFA, audiences, especially our local independent filmmakers will hear from the National Artist himself. As we shine the spotlight on his films, we hope to see more independent films influenced by local stories and our culture on the silver screen in the near future," said FDCP Chairperson and CEO Diño.
The event is also in line with FDCP's marking of the first Philippine Film Industry Month last September, as mandated by Presidential Proclamation 1085, with the theme "Ngayon Ang Bagong Sinemula," which celebrates the heritage, significance, and legacy of Philippine Cinema. 

To view the films, register through this link: https://bit.ly/KT_FestivalRegistration. To join the talkback session, register at https://bit.ly/KT_TalkbackSession.
Festival Schedule and Program of "Tribute to Kidlat Tahimik: Lolo of Filipino Indie Cinema" from November 28 to December 8:
November 28 - 29 
Screening on Vimeo 
Perfumed Nightmares

(1977)

Sino Lumikha ng Yoyo? Sino ang Lumikha ng Moon Buggy?

(1979)

Turumba

(1981)
November 30
Talkback with Kidlat Tahimik 
4:00 PM - 5:00 PM via Zoom and FDCP FB page 
December 1 - 2 
Screening on Vimeo
Turumba

(1981)

Bakit Dilaw ang Gitna ng Bahaghari?

(1994)

Balikbayan #1: Memories of Overdevelopment Redux III

(2015)
December 3 - 4 
Screening on Vimeo 
Balikbayan #1: Memories of Overdevelopment Redux III

(2015)

Bakit Dilaw ang Gitna ng Bahaghari?

(1994)

Sino Lumikha ng Yoyo? Sino ang Lumikha ng Moon Buggy?

(1979)
December 5 - 6 
Screening on Vimeo
Perfumed Nightmares

(1977)

Bakit Dilaw ang Gitna ng Bahaghari?

(1994)

Sino Lumikha ng Yoyo? Sino ang Lumikha ng Moon Buggy?

(1979)
December 7 - 8
Screening on Vimeo 
Perfumed Nightmares

(1977)

Turumba

(1981)

Balikbayan #1: Memories of Overdevelopment Redux III

(2015)