FDCP unveils Philippine delegation to Cannes Marché du Film 2023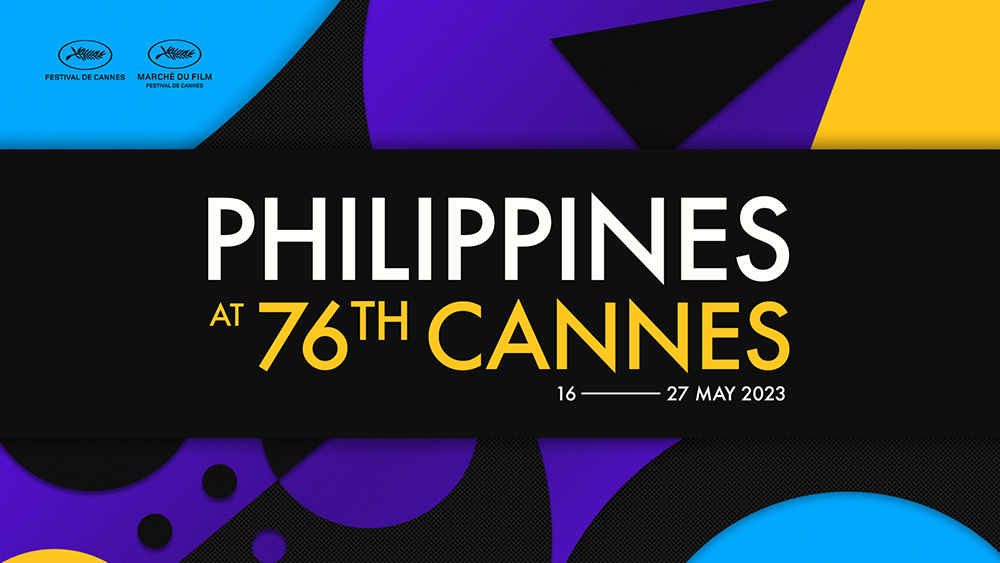 MANILA, PHILIPPINES, 10 MAY 2023 — The Film Development Council of the Philippines (FDCP) is leading the Philippine delegation to Marché du Film 2023, the business arm of the prestigious Cannes Film Festival, which will be held in France from May 16 to 27.
The Philippines will be represented by six feature-length films at Marché du Film and three projects at Festival de Cannes, along with 17 production companies, four Filipino producers, and a Filipina juror in the independently-sponsored Queer Palm award.
Filipino film screenings at Marché du Film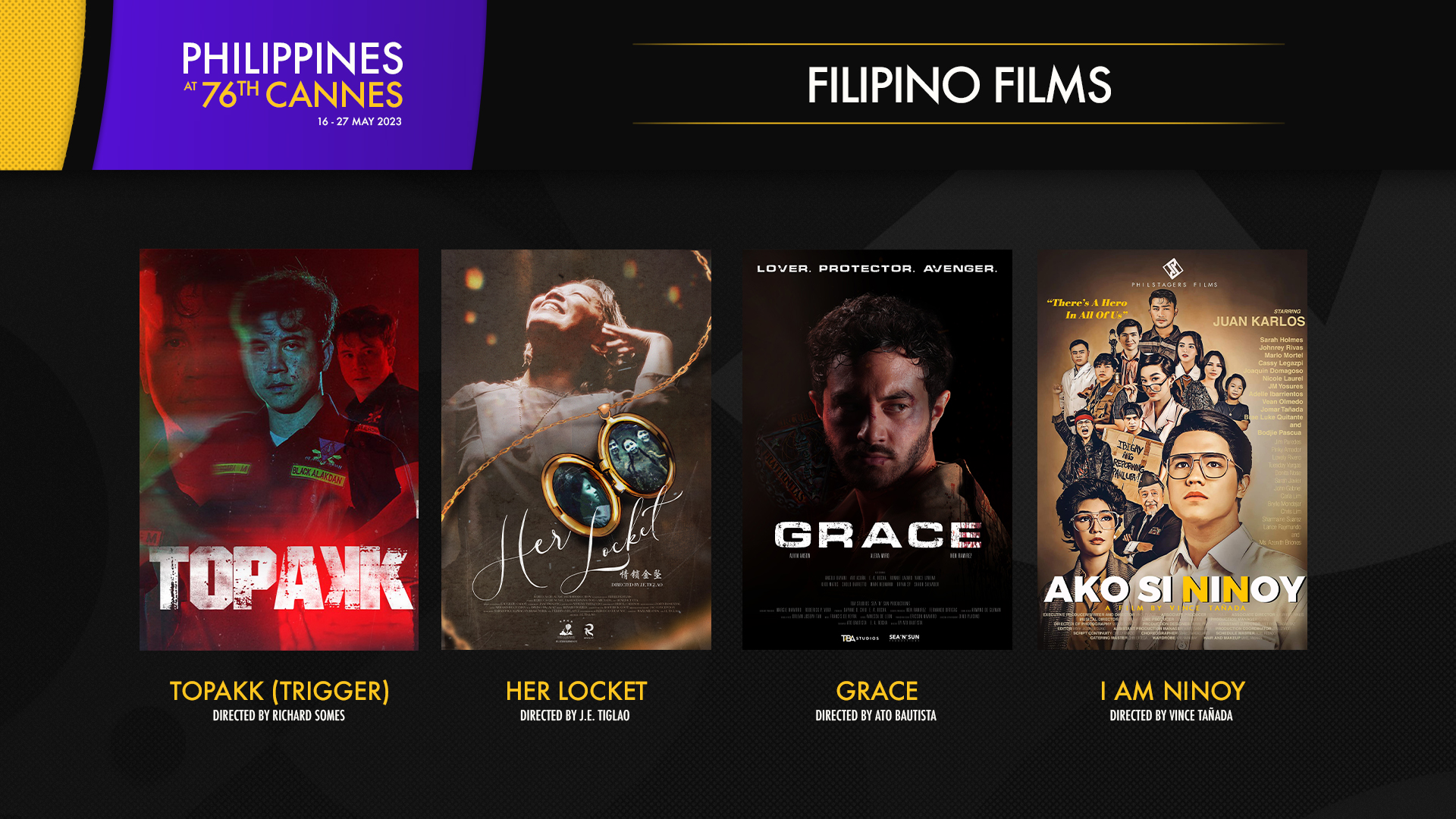 Four Filipino films will have exclusive screenings at Marché du Film from May 16 to 26, namely: TOPAKK by Richard Somes, Her Locket by J.E. Tiglao, Grace by Ato Bautista, and I Am Ninoy by Vince Tañada. Documentary films Tens Across the Borders by Chan Sze-Wei and Asog by Sean Devlin are also included in the Cannes Docs 2023 program.
TOPAKK (English Title: Trigger), directed by Richard Somes, will be joining the genre-oriented Fantastic Pavilion Galas at Marché du Film. This action-drama film follows the story of a security guard, afflicted with Post-Traumatic Stress Disorder (PTSD) from previously serving in the army, who finds himself involved in another deadly war.
J.E. Tiglao's film Her Locket is also included in the Marché du Film Market Screening. It tells the story of Jewel, a mother with dementia, who suddenly recovers an old locket that causes memories from her previous life to return. 
Grace by Ato Bautista is a crime thriller film about a college student who decides to seek revenge on men who are involved in his girlfriend's death, regardless of their powerful positions in the country. Meanwhile, Vince Tañada's musical drama I Am Ninoy follows 11 characters whose lives resemble that of the late Benigno "Ninoy" Aquino.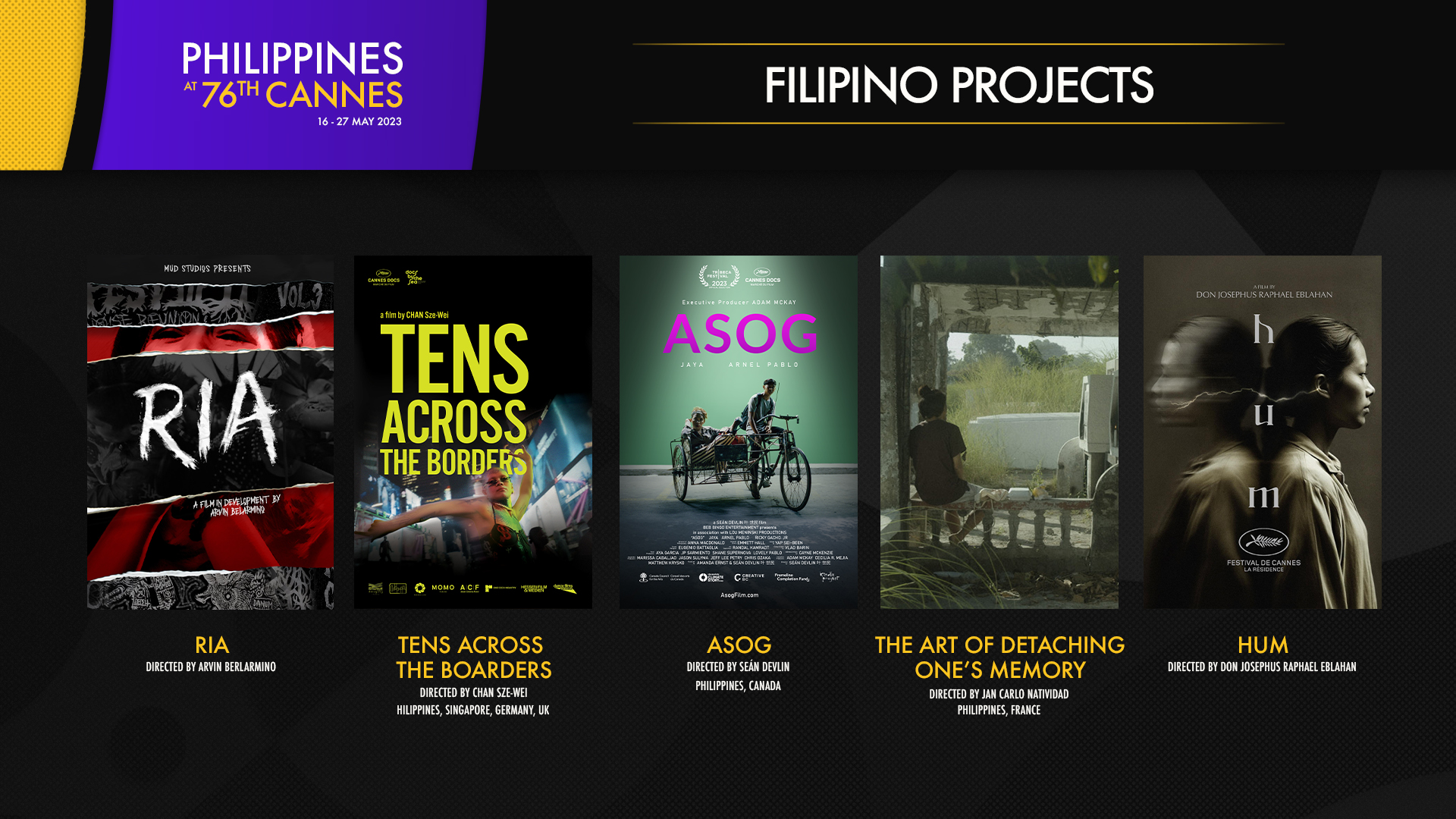 Tens Across the Borders, directed by Chan Sze-Wei, is part of the Cannes Docs - Marché du Film showcase as a co-production project between the Philippines, Singapore, Germany, and United Kingdom. This documentary feature follows three individuals from Thailand, Malaysia, and the Philippines as they explore the ballroom scene in New York City and expand the queer community across Southeast Asia.
The Cannes Docs-In-Progress program also selected Sean Devlin's documentary entitled Asog, a film about a non-binary teacher who embarks on a road trip for a drag pageant and meets communities that are still reeling from the aftermath of previous typhoons in the country. 
Filipino Projects and Representatives at Festival de Cannes
RIA, directed by Arvin Belarmino, is part of the La Fabrique Cinéma 2023 selection. La Fabrique Cinéma is an initiative to support emerging filmmakers who are working on their first or second feature-length films, and selected candidates will receive individual coaching sessions and funding opportunities for their next projects.
Jan Carlo Natividad's The Art of Detaching One's Memory is one of the six chosen projects at the Focus WiP (Work in Progress) 2023 program of Cinéma de Demain. The Focus WiP endeavors to promote short films, currently in production or post-production, to potential distributors and producers who can provide support to filmmakers in the development and finalization of their short films.
Award-winning Filipino filmmaker and writer Don Josephus Raphael Eblahan is also invited to be part of the Cannes Cinéfondation Résidence, which offers directors a personalized program that will aid them in scriptwriting and production. Their respective projects will be presented to producers and distributors after the program.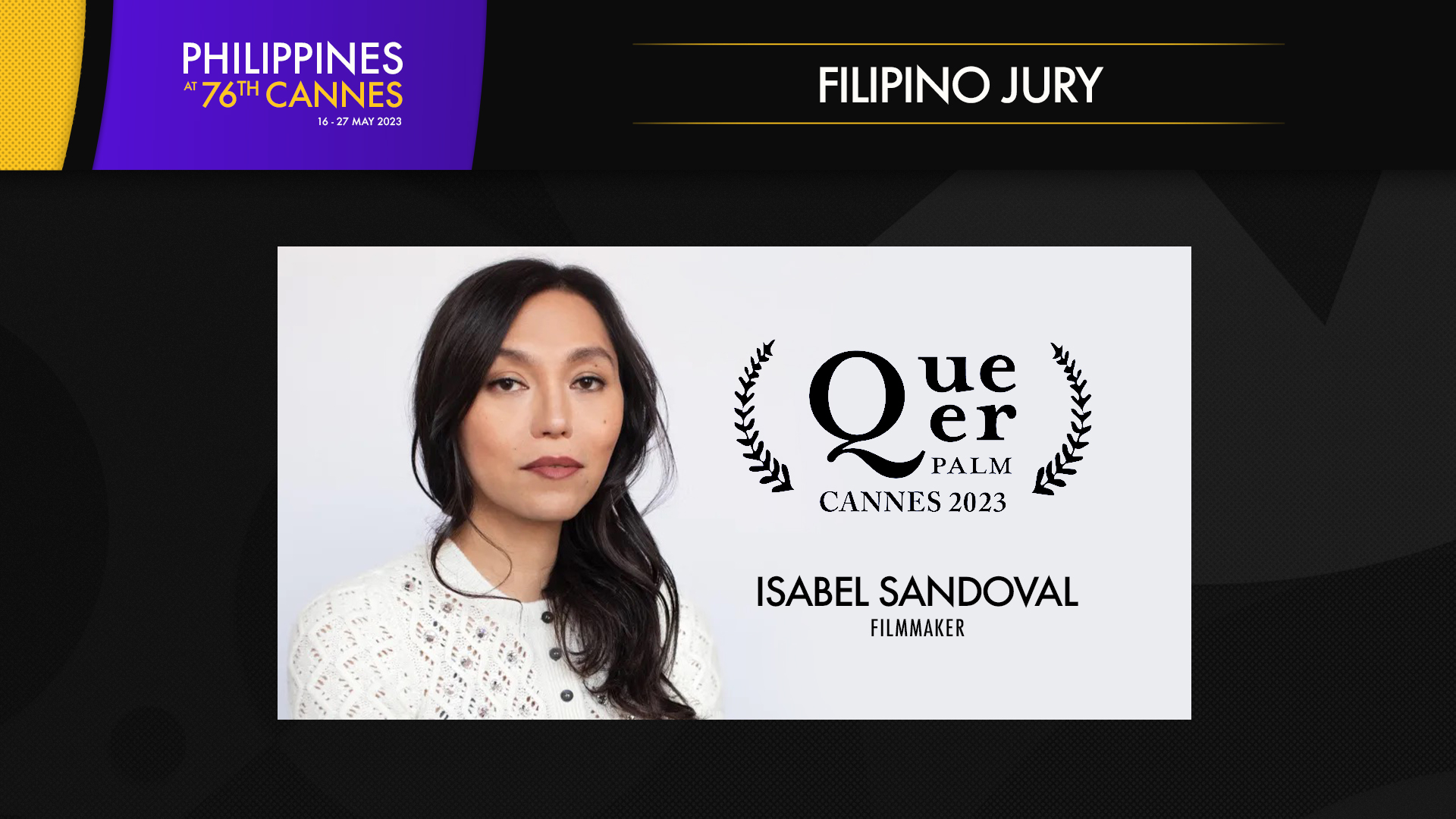 Moreover, renowned Filipina filmmaker and actress Isabel Sandoval is selected as one of the jurors in Queer Palm, an independently-sponsored award given to films exhibited at Cannes Film Festival that have made significant contributions to LGBTQIA+ cinema.
Filipino Production Companies at Marché du Film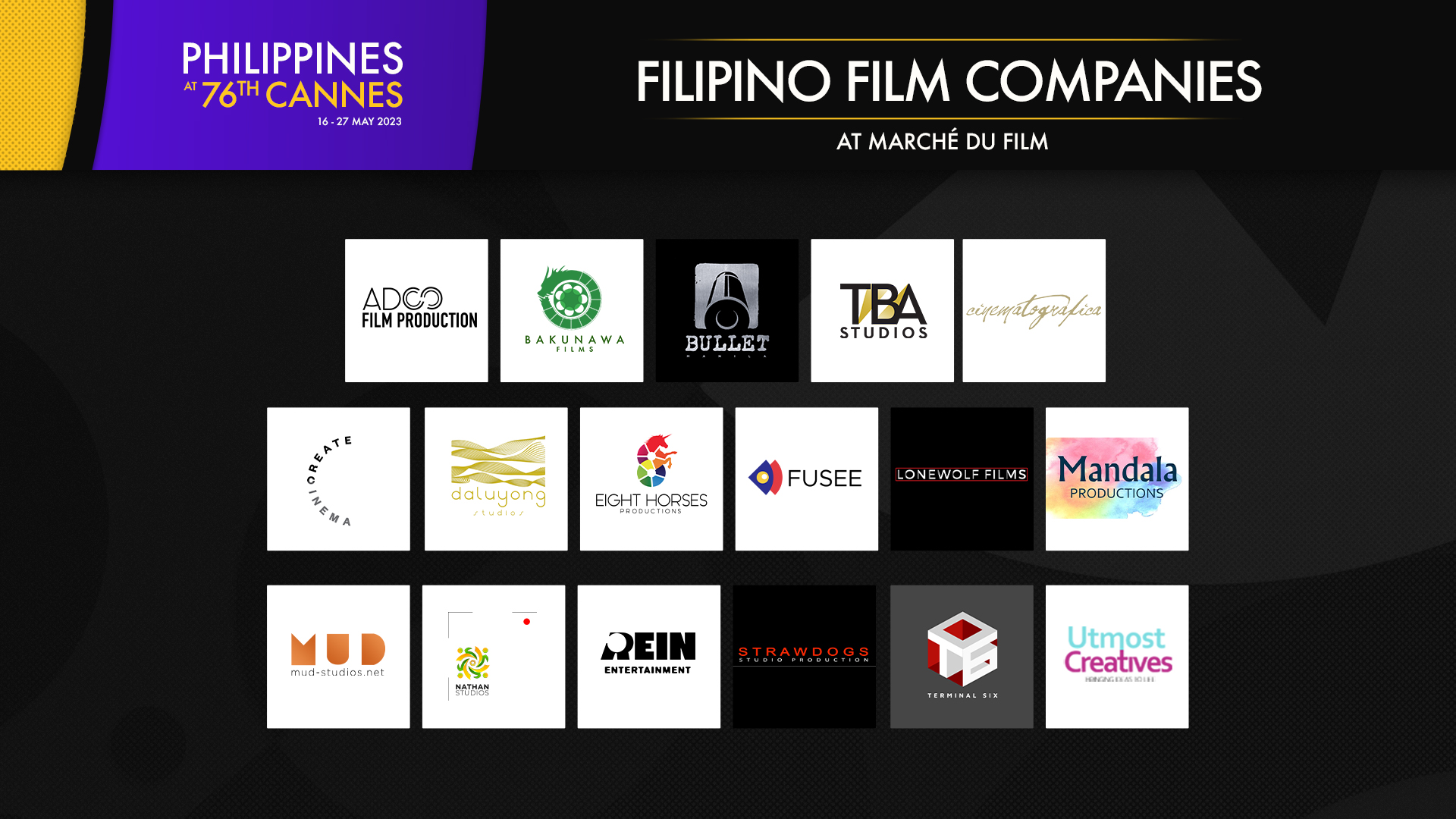 Seventeen (17) production companies have been officially selected by the FDCP to represent their respective companies at Marché du Film to explore possible partnerships with their international counterparts. The FDCP will sponsor their Market Badges which will grant them access to the following:
Cannes Film Festival's full screenings and exclusive reruns

Marché du Film screenings and online platforms

Free one-year subscription to Cinando and its database of film industry professionals

Speed meetings for the duration of the event

Marché du Film publications with chosen delegates' professional contact details
Cannes Producers Network 2023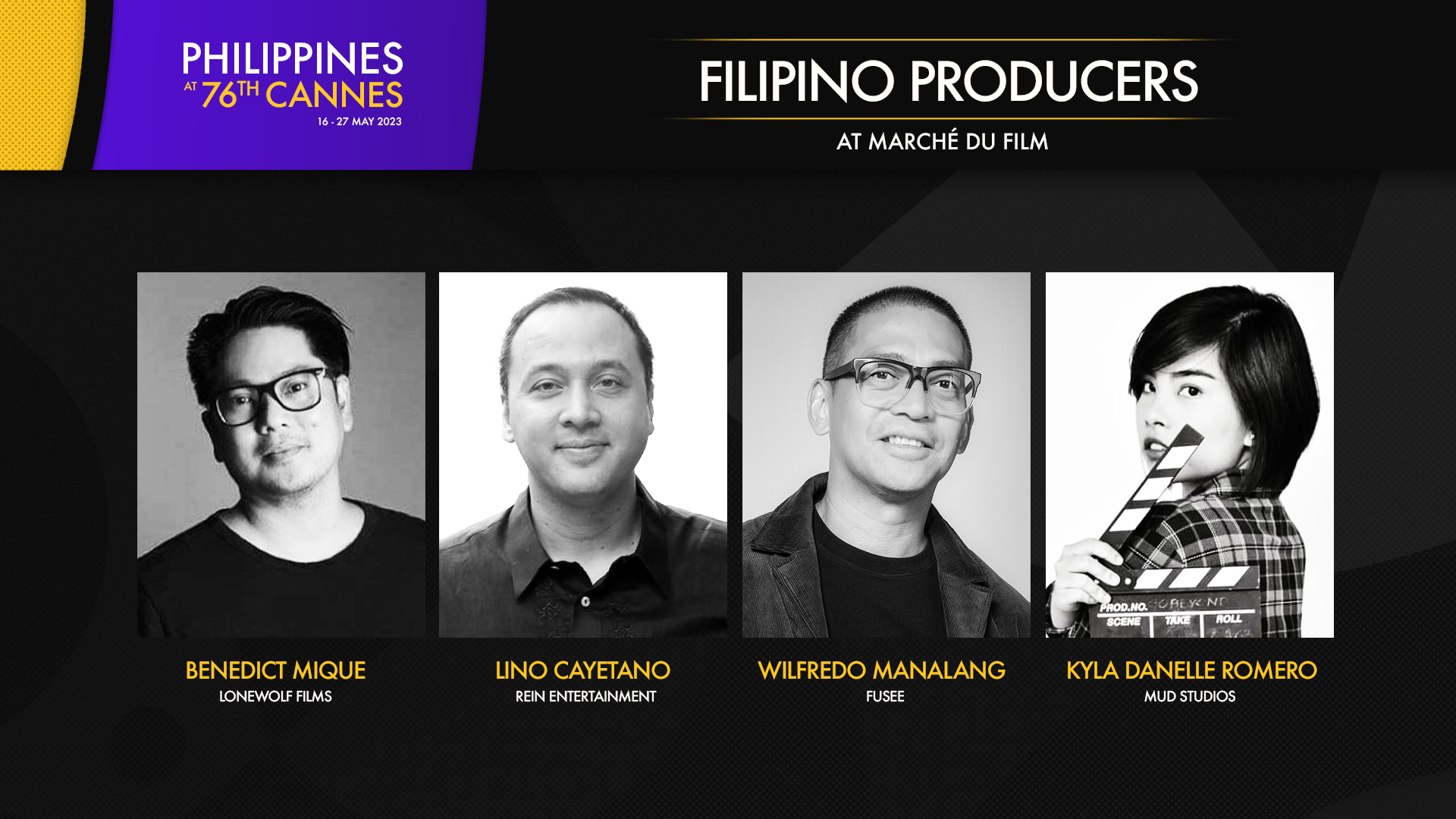 The Filipino producers chosen by the FDCP to be part of the Cannes Producers Network from May 17 to 22 are Lino Cayetano, the founder of Rein Entertainment that produced critically acclaimed television series such as Bagman and Betcin, and Benedict Mique, the CEO of Lonewolf Films Inc. that produced the film ML starring Eddie Garcia and Tony Labrusca.
Selected producers will receive a Marché du Film and Producers Network accreditation sponsored by the FDCP, as well as a PHP50,000 reimbursable stipend including flight, accommodations, and allowance, subject to proper liquidation, auditing, and accounting. 
They will also have access to the following: Cannes Film Festival's full screenings and reruns, Marché du Film online and in-person screenings, priority badges for both events, exhibitor booths and pavilions, free one-year subscription to Cinando, and conferences, panels, and masterclasses during the festival.
Launched in 2004, the Cannes Producers Network has become an established venue for film producers around the world to foster long-lasting connections and business partnerships, making it a highly anticipated event for the global film industry.
Spotlight Asia
Four Filipino producers have been selected to be part of Spotlight Asia from May 16 to 24, namely: Benedict Mique, Lino Cayetano, FUSEE founder Wilfredo Manalang, and filmmaker and writer Kyla Romero. 
Spotlight Asia is a newly launched program that aims to strengthen connections and collaborations between Asian and European film markets. This program includes presentations and panel discussions on future co-production initiatives between Asia and Europe.
The FDCP will be hosting a series of events at Marché du Film such as the FilmPhilippines Incentives Talk, Philippine Cinema Night, and Full Circle Lab Philippines on Spotlight. Moreover, the FDCP will organize a Philippine Pavilion shared with the Singapore Film Commission, where Filipino delegates can gather to discuss potential partnerships and expand their networks with film industry professionals from different countries.
The Marché du Film is one of the biggest film markets in the world that is attended by more than 12,000 professionals in the film industry. It aims to promote business partnerships and collaborations involving financing, co-production, and distribution of films, as well as networking opportunities among film industry experts.
This year's participation of the Philippines in Marché du Film is in line with the national film agency's mandate to further develop the Philippine film industry and provide opportunities for homegrown talents to be recognized globally.
To know more about the country's participation in Marché du Film, follow FDCP's official pages on Facebook, Twitter, and Instagram.