FDCP's International Film Industry Conference Returns for 6th Edition, Features Hybrid Public Sessions and Masterclasses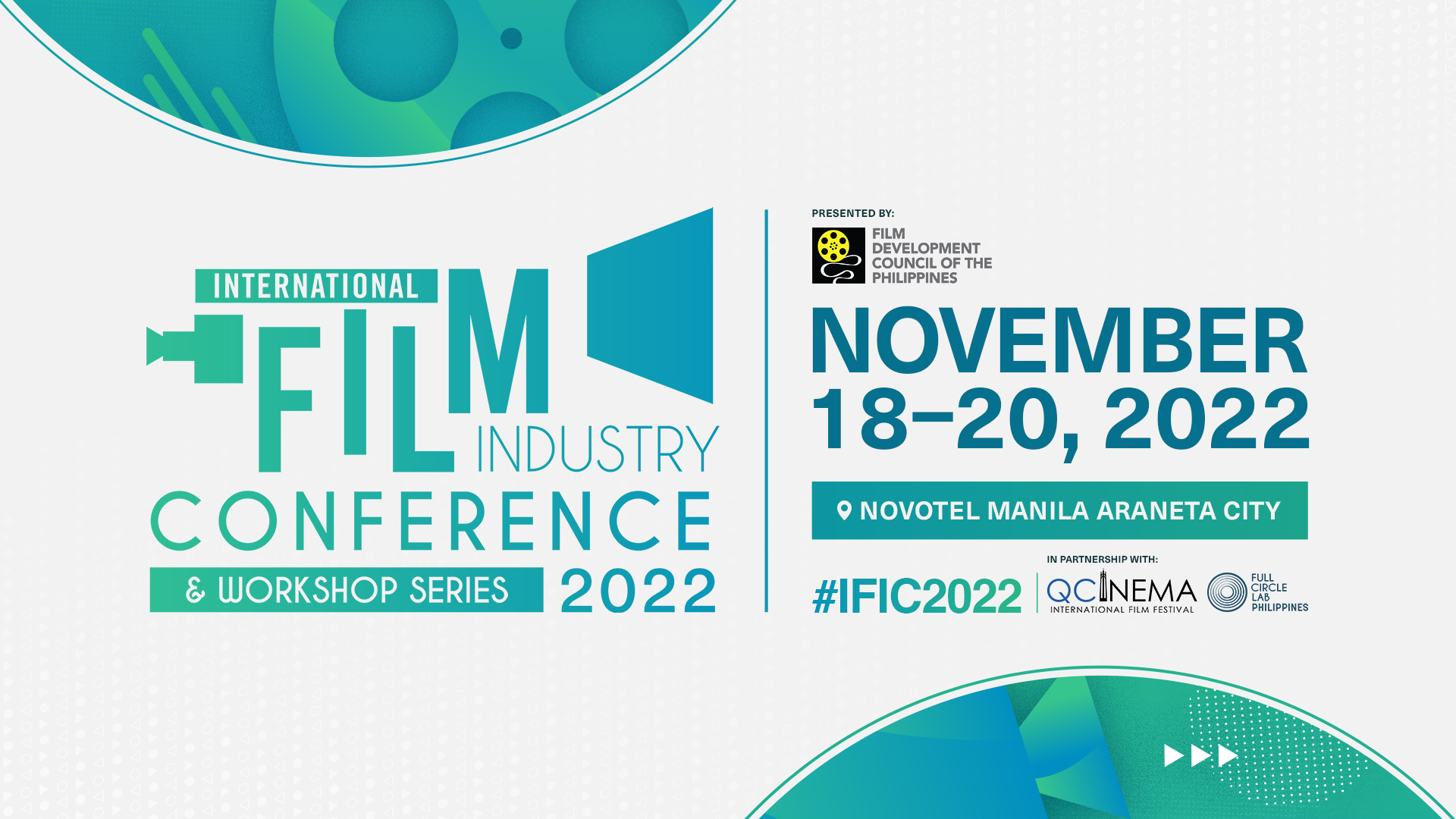 MANILA, PHILIPPINES, OCTOBER 29, 2022 — The International Film Industry Conference (IFIC), an international platform hosted by the Film Development Council of the Philippines (FDCP) geared towards bringing together international and local industry professionals to share and discuss the latest trends, developments, and cooperation opportunities, will be holding its sixth edition in hybrid format from November 18 to 20 at Novotel Manila Araneta Center in Quezon City and online via Zoom and Facebook.
This year's IFIC is in partnership with QCinema International Film Festival and Full Circle Lab - Philippines, a capacity-building program from the partnership of FDCP and Tatino Films. IFIC will feature six free public sessions, three masterclasses, and a workshop series. 
This year's IFIC will offer free public sessions on documentary filmmaking, global trends on film distribution and exhibition, incentives and grants for Filipino filmmakers, and funding opportunities. As IFIC continues to promote regional and international synergy in the filmmaking industry, the IFIC public sessions for this edition will include a roundtable discussion with the ASEAN-Republic of Korea film commissions and agencies on accessing global opportunities for the Southeast Asian Film Industry and a session on international co-production in Asia. 
The masterclasses in IFIC are recommended for film industry professionals and enthusiasts who would like to gain more knowledge on specific topics namely co-production with other countries, models of film distribution, and marketing films in the global market. Registration fee for one masterclass is PHP 1000 or USD 17, while a package of all three masterclasses is PHP 2,500 or USD 42.
The workshop series on dossier-making and pitching is exclusive to the FDCP's selected CreatePH grantees.
Interested participants to the free public sessions and masterclasses for both online and onsite events are required to register at the IFIC website. Log on to fdcp.ph/ific to secure a slot to the country's premiere film industry event. Registration is open until November 14, 2022. For more information and updates on IFIC 2022, visit their official Facebook page at www.facebook.com/IFICPHofficial. 


Lineup of Activities for IFIC 2022: 
Day 1 - November 18, 2022 (Friday)
Keynote Address: Addressing the Philippine Film Industry
1:00 PM - 1:30 PM 
Speaker:
Chair Tirso Cruz III | Chairperson and CEO, Film Development Council of the Philippines
With cinemas opening their doors as the pandemic eases, developments in the status of the film industry have been positive. This keynote address from FDCP's Chairperson and CEO addresses this rapid development and lays out how the Agency will support the Philippine film industry in the years to come.
Session 1: Power in Storytelling: Creating and Funding Impactful Documentary Films
1:45 PM - 2:55 PM 
The complete set of speakers will be announced soon.
Creating an impactful film that transcends its narratives to a wider audience is a challenge in itself but securing funding for a documentary film is a different feat. From a country with diverse meaningful stories, Philippine documentary filmmaking has been thriving despite these challenges through the years. In this panel session, we learn directly from experts how filmmakers can further elevate their knowledge of documentary filmmaking and collaborations that can help their projects further.
Session 2: Let's Create Together: Funding and Incentive Opportunities for Filipino Filmmakers
3:10 PM - 4:20 PM
Panelists: 
FDCP/FilmPhilippines Representative
Wilfredo Manalang | Producer, Blue Room (CreatePH Grantee)
Bianca Balbuena | Producer, Nocebo (FilmPhilippines Grantee)
Jun Juban | Producer, Survivor Philippines (FilmPhilippines Grantee)
Agathe Vinson | Consultant, Film Development Council of the Philippines
Moderator:
Madonna Tarrayo | President and CEO, Unitel Productions, Inc./Straight Shooters Media
 
With the goal to support more Filipino film projects and collaborations, the FDCP initiated CreatePH Films and FilmPhilippines programs. Since its launch last 2021, it has produced several grants and co-production incentives that have allowed film projects to be produced and screened locally and internationally. This panel will discuss and inform on how to get these opportunities with the programs' grantees.
Day 2 - November 19, 2022 (Saturday)
Session 3: ASEAN-ROK Roundtable: Mapping Global Opportunities for the Southeast Asian Film Industry 
11:00 AM - 12:10PM
Panelists:
Mr. Tirso Cruz III | Chairperson and CEO, Film Development Council of the Philippines
Mr. Sirisak Koshpasharin | Vice President, The National Federation of Motion Pictures and Contents Associations
Mr. Park Ki-Yong | Chairman, Korean Film Council
Moderator:
Ms. Lorna Tee | Producer 
In recent years Southeast Asian cinema has been making its mark on the world stage. With the immense talent in the region, industry support from the ASEAN and ROK film commissions has been outpouring. This panel session will highlight the state and plans of film commissions to support their film industries to reach global opportunities.
Session 4: Producing with Asia: Success Stories of International Co-Production
12:25 PM - 1:35 PM
Panelists:
Chie Hayakawa | Producer, Plan 75 (Japan)
Makbul Mubarak | Director, Autobiography (Indonesia)
Sorayos Prapapan | Director, Arnold is a Model Student (Thailand)
Bianca Balbuena | Producer, When The Waves Are Gone (Philippines)
Moderator:
Lorna Tee | Producer 
With the Asian region having rich stories that are deserving of a worldwide audience, the brilliance of its cinema, through the years, has been shining brighter. With challenges in production and the financial aspects of producing a film, co-productions have been a vital part of these stories coming to life. This panel, powered by QCinema International Film Festival, features Asian filmmakers who will share their success stories and experiences in co-producing with their international partners. 
 
Session 5: Streaming Now: The Rise of a New Era of Film Exhibition
2:05 PM - 3:15 PM
The complete set of speakers will be announced soon.
This panel features the current streaming giants present in the Philippines. Get to know them as they discuss the impact that streaming video on demand has had on the global market and on the audiences and how this will affect the relationship of independent producers and distributors with VODs to cater to the demands and needs of the industry and audiences.
 
Session 6: Global Industry Trends on Film Distribution
3:30 PM - 4:40 PM
Panelists: 
Samuel Javier | Festival Director, New York Asian Film Festival
Menina Wesmurti | Festival Director, EuroCinema Jakarta & Manusia Film Festival
Agathe Vinson | Consultant, The Greenhouse
Moderator: Jo Andrew Torlao | Manager, UniPhilippines
With the developments in distribution platforms and consumer behavior, producers and distributors have been on the lookout for best practices in bringing their films to the world. This session features a panel of experts ranging from festival directors to international distributors who delves into the evolving practices of film distribution and shares new strategies and opportunities to reach audiences. 
Day 3 - November 20, 2022 (Sunday)
Masterclass 1: This or That: Co-producing With VS Within the Region
1:00 PM - 2:10 PM
Speaker: 
Meiske Taurisia | Producer (Indonesia)
With the co-production deals and programs all over the world, the Asian region has been competitive in providing opportunities to its filmmakers. Co-production has been made easier and better with the different options to co-produce within your own or with neighboring countries. In this talk, an expert in international co-productions from Southeast Asia will talk about the similarities and differences through her experiences in producing with and within the region.
Masterclass 2: A Closer Look to the Models of Film Distribution
2:40 PM - 3:50 PM
This session with an award-winning distributor with experience in international co-productions delves into the different models of film distribution. Ranging from the traditional to newer distribution trends, learn new strategies as we adapt to changes in platforms and audience behavior.
Masterclass 3: Master Your Strategy: Marketing for the Global Marketplace
4:20 PM - 5:30 PM
Speaker: Ewa Bojanowska | New Europe Film Sales (Poland)
Just as the script and directing, marketing can also make or break your film. It is essentially the key to promoting and bringing in audiences for your film. A tailor-fit approach is best when creating a strategy to market to your target audiences. This session will delve into mastering your strategies for successful and effective marketing.