Quarantine Not Required for Vaccinated Filipinos, Foreigners from 'Green' Countries

MANILA, PHILIPPINES, OCTOBER 22, 2021 — Fully vaccinated travelers no longer need to observe mandatory quarantine upon arrival in the Philippines, so long as they present a negative reverse transcription-polymerase chain reaction (RT-PCR) test result within three days before leaving their country of origin, effective on October 14. 
Facility-based quarantine is still required for unvaccinated and partially vaccinated individuals and those with unverified vaccination status until the release of their negative RT-PCR result on their fifth day in the country.
Following the Inter-Agency Task Force's (IATF) COVID-19 Alert Levels System, Metro Manila will be placed under Alert Level 3 starting October 16 permitting film and audiovisual production shoots to operate with a maximum of 50 persons at any time and are subject to the same restrictions and protocols of the DTI-DOLE-DOH Joint Administrative Order (JAO) No. 2021-0001.
Last September 29, FDCP presented to the IATF Technical Working Group (TWG) a proposal to shorten the quarantine period of vaccinated audiovisual workers to three to five days on the condition that they are able to show proof of vaccination and a negative RT-PCR test result of at least 72 hours before their flight.
"With the shortened quarantine period and the loosened Alert Level 3, we hope to slowly restore the film industry as we adhere to the imposed safety and health protocols by the IATF. We aspire to continue to produce more masterpieces in this new normal," said FDCP Chairperson and CEO Liza Diño.
On September 30, the IATF released the updated roster of "green" countries, the countries in the list are American Samoa, Burkina Faso, Cameroon, Cayman Islands, Chad, China (mainland), Comoros, Republic of the Congo, Djibouti, Falkland Islands (Malvinas), Hungary, Madagascar, Mali, Federated States of Micronesia, Montserrat, New Zealand, Niger, Northern Mariana Islands, Palau, Poland, Saba (Special Municipality of the Kingdom of Netherlands), Saint Pierre, Sierra Leone, Sint Eustatius, Taiwan, Algeria, Bhutan, Cook Islands, Eritrea, Kiribati, Marshall Islands, Nauru, Nicaragua, Niue, North Korea, Saint Helena, Samoa, Solomon Islands, Sudan, Syria, Tajikistan, Tanzania, Tokelau, Tonga, Turkmenistan, Tuvalu, Vanuatu, Uzbekistan, and Yemen.
FDCP's Safe Filming Program encourages all film and audiovisual productions to abide by the government's prescribed safety and health protocols amid the pandemic, while FilmPhilippines is in charge of providing 'one-stop-shop' assistance to foreign filmmakers for filming in the Philippines.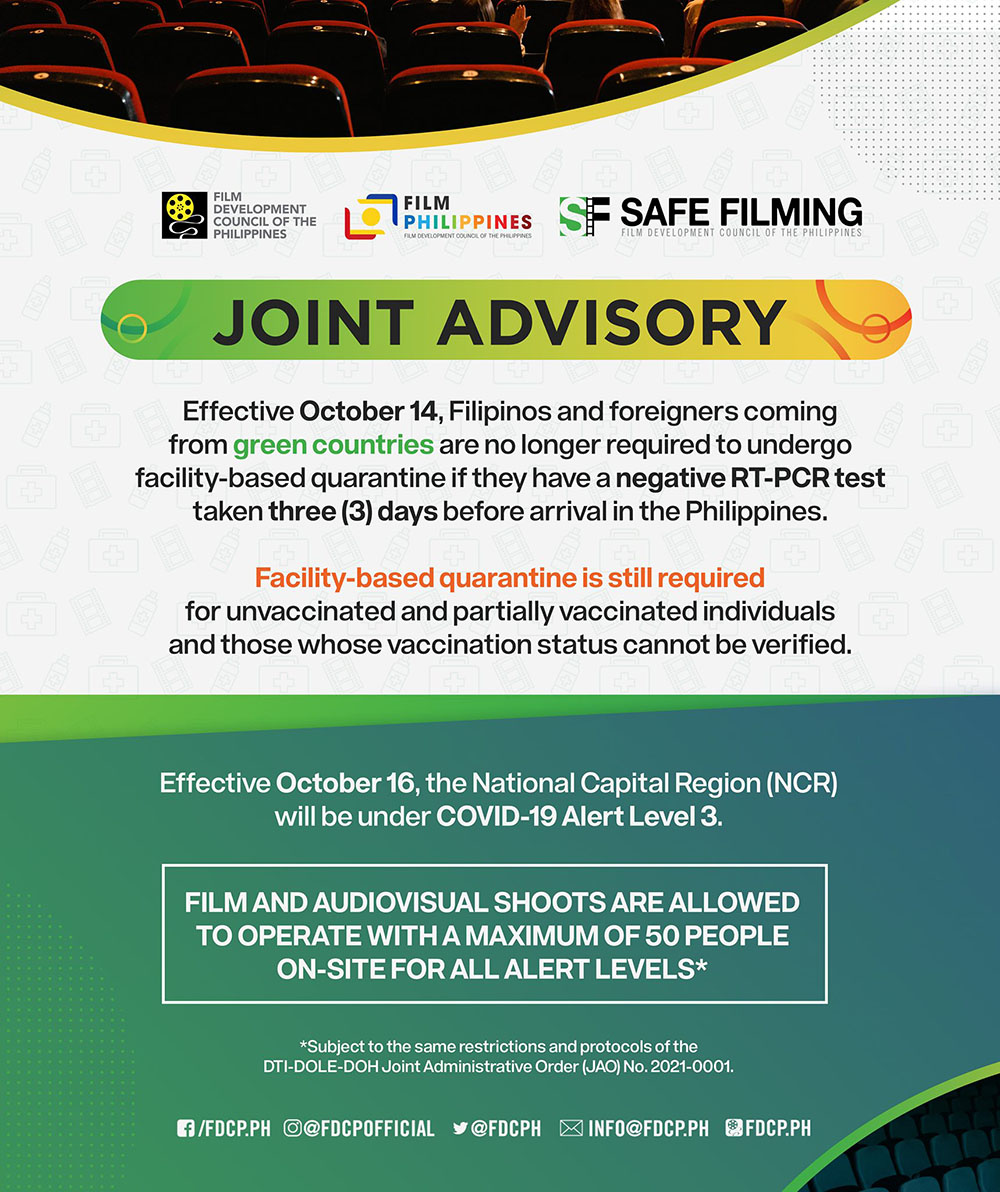 To know more about the safety and health protocols for production shoots and audiovisual activities in community quarantine areas, read the DTI-DOLE-DOH JAO 2021-0001 at http://bit.ly/OmnibusGuidelinesNFVPforCovid19 or visit www.safefilming.ph and www.filmphilippines.com.