FDCP Opens Call for Emerging Producers to Attend Rotterdam Lab 2022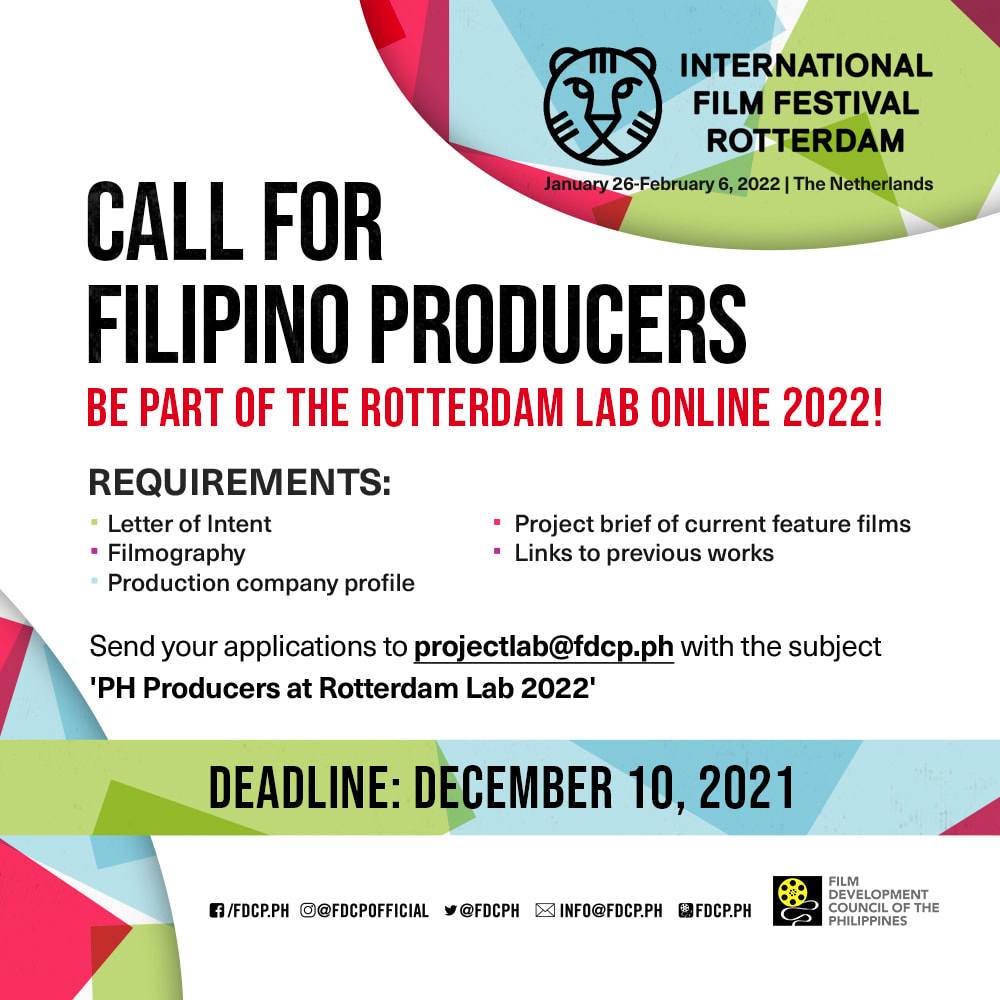 MANILA, PHILIPPINES, DECEMBER 3, 2021 — The Film Development Council of the Philippines (FDCP) is offering an opportunity for budding producers to attend the international training and networking workshop Rotterdam Lab online of the 51st International Film Festival Rotterdam (IFFR) in the Netherlands from January 24 to 28, 2022. 
As an international partner of the IFFR Pro for the second year, FDCP will be selecting producers from the Philippines to participate in the 22nd Rotterdam Lab next year. Eligible participants should be emerging producers who have produced at least two short films and are working on at least one feature film. 
Interested producers who are eligible to apply with the aim to co-produce or build a network with international industry players are encouraged to send their Letter of Intent, filmography, production company profile, project brief of the current feature film, and links to previous works to the FDCP ([email protected]) on or before December 10, 2021. 
Established in 2001, Rotterdam Lab aims to train young producers to build and develop their networks in the industry. The workshop also equips participating producers with the knowledge to navigate the world of international film financing, sales, and distribution.
For the recent 21st Rotterdam Lab of the 50th IFFR, FDCP selected producers April Batican of Epicmedia Productions and Julienne Ilagan of Blackfish Productions as the country's representatives. 
Also part of the IFFR Pro initiatives are the CineMart co-production market, the Hubert Bals Fund for independent cinema, and IFFR Pro Hub which offers masterclasses, panels, debates, and professional services.
The IFFR is an annual film festival held in Rotterdam, the Netherlands, which focuses on independent and experimental filmmaking showcasing emerging talents and established auteurs. The festival will run from January 26 to February 6, 2022. 
For more information, contact the FDCP at [email protected].