FDCP's International Film Industry Conference is back for its 7th Edition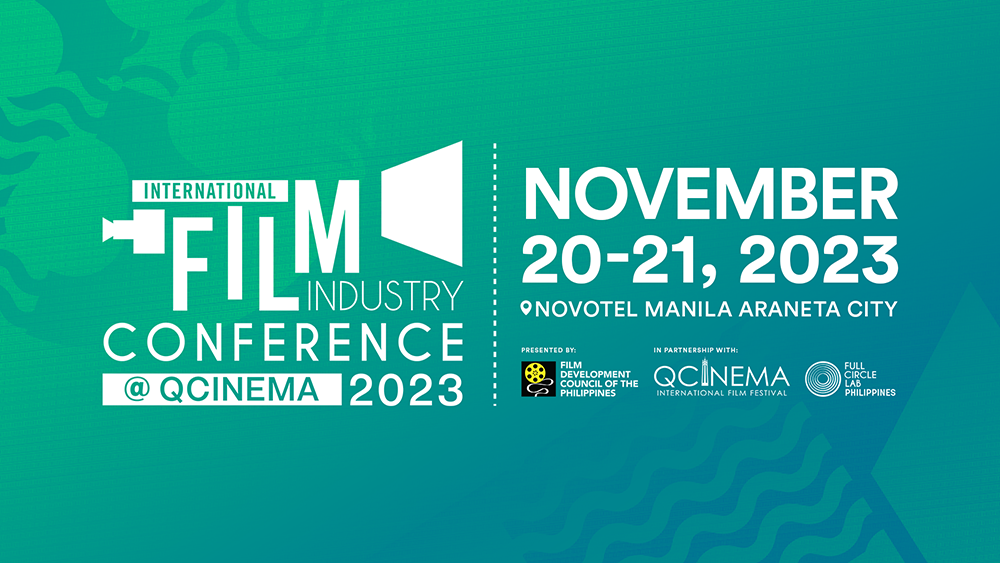 MANILA, PHILIPPINES—The Film Development Council of the Philippines (FDCP) remains committed to advancing the Philippine film industry with the conduct of this year's International Film Industry Conference (IFIC) from November 20 to 21 through an in-person conference at Novotel in Quezon City with simultaneous broadcast via Zoom.
In partnership with QCinema International Film Festival and Full Circle Lab Philippines, the 7th edition of IFIC continues to create an avenue for filmmakers, students, and seasoned professionals to engage with industry experts and discuss the latest trends, challenges, and opportunities that they can explore for the development, production, and distribution of their talents and projects. 
 
This year's conference will  feature a series of free public sessions on relevant topics including film restoration, the role of social media in film festival marketing, the significance of post-production in the era of streaming, the power of international co-production in Asia, and the dynamics of distribution with sales agents and distributors.
In an effort to bridge the gap between the Philippine film industry and the international market, the IFIC will facilitate a roundtable discussion with the members of the Asian Film Alliance Network (AFAN) discussing the vital role of unity and collaboration within Asian film communities.
"The FDCP is proud to once again host the International Film Industry Conference (IFIC), offering our industry stakeholders great opportunities to expand their knowledge, grow their expertise, and absorb high value insights from exceptional speakers from both the country and from all over the world," FDCP Chairman and CEO Tirso Cruz III said in a statement. "This event exemplifies the strong conviction of the FDCP in growing our beloved Philippine Film Industry to be at par with international standards and best practices." 
Interested participants looking to attend the free public sessions whether online or onsite may register through this link http://bit.ly/IFIC2023Registration. For more information on the latest updates on IFIC 2023, please visit its official Facebook page.

FULL SCHEDULE:
DAY 1 | November 20, 2022 (Monday) 
Venue: 2nd Floor, Monet Ballroom 3, Novotel Manila Araneta City
Welcoming Address: FDCP Chairman and CEO Tirso Cruz III
1:25 PM - 1:30 PM
Session 1: Revitalizing History Through The Future of Film Restoration 
1:30 PM - 2:40 PM
Panelists: 
Caroline Caruelle | Cite de Memoire 
Vivek Modi | Prasad Corporation
Jim Lindner | Media Matters

Moderator: John Wong and Rose Roque
With the recognition of films as cultural investments, artistic wealth, and records of history, a film's complete deterioration is truly a pressing issue. This panel session will talk about how film restoration is not merely a preservation effort but a transformative process that revitalizes cinematic masterpieces through modern-day processes and technologies, ensuring that can be cherished and appreciated by generations to come.
Session 2: The Cinematic Buzz: Film Festivals' Success in The Social Media Landscape 
2:50 PM - 4:00 PM
Panelists:
Panos Kotzathanasis | Asian Movie Pulse 
Shinji Manlangit  | Alphapanda
Hing Cheung Jacob Wong | Hong Kong International Film Festival Industry
Youngwoo Kim | Red Sea International Film Festival
Moderator: Ed Lejano
Social media has revolutionized film festival marketing and has given filmmakers and organizers an opportunity to easily engage with their audiences. They have become an important instrument for creating buzz around events and activities, facilitating viral marketing, and fostering a sense of community among film enthusiasts. This panel session will delve more into the leverage in social media marketing  and how this has brought stories to a wider audience, redefining the dynamics of film festival promotion.
Session 3: Building Bridges through Film: A Roundtable Discussion with The Asian Film Alliance Network (AFAN)
4:10 PM - 5:20 PM
Panelists:
Tirso Cruz III | Film Development Council of the Philippines (FDCP)
Park Ki-yong | Korean Film Council (KOFIC) 
Alex Sihar | Indonesian Film Board (BPI)
Dato' Kamil Othman | National Film Development Corporation Malaysia (FINAS)
Jean Ng | Infocomm Media Development Authority (IMDA)/Singapore Film  Commission (SFC)
Moderator: Lorna Tee
Film communities stand stronger and taller as allies arise. In this panel session, leaders of the Asian Film Alliance Network (AFAN)  will talk about the significance of solidarity and cooperation between Asian communities in the film industry, as well as, how the AFAN can help in fostering crucial areas in filmmaking–such as, co-production, co-financing, technological exchanges, training and education, and cultural workshops as well as screenings. 
DAY 2 | November 21, 2022 (Tuesday)
Venue: 2nd Floor, Monet Ballroom 3, Novotel Manila Araneta City
Session 4: The Power of Co-Production: Cinematic Alliances Within Asia
1:30 PM - 2:40 PM
Panelists:
Armi Cacanindin | Producer, "Whether the Weather is Fine"
Si En Tan | Producer, "Don't Cry Butterfly"
Amanda Nell Eu | Director, "Tiger Stripes"
Lay Jin Ong | Director, "Abang Adik"
Moderator: Lorna Tee
This panel dives into the world of co-production within Asia through comprehensive case studies of four film projects. In this session, featured directors and producers will share insights into the complexities of cross-border collaborations, addressing diverse cultural nuances, overcoming logistical challenges, and uncovering the secrets behind successful co-production ventures.
Session 5: Redefining Post-Production: Unpacking Its Importance for Excellent Streaming
2:50 PM - 4:00 PM
Panelists: 
Paul Andrew Stevens  | Space Lion Studios
Chai Yee Wei  | Mocha Chai Lab
Vincent Villa  | Kongchuk Studio
Loy Te  | Kongchuk Studio
Moderator: Manet A. Dayrit
In the world of streaming platforms, post-production plays an important role in delivering high-quality content to audiences worldwide. As streaming services and content fiercely compete for viewers' attention, impeccable post-production is a must. In this public session, invited panelists will share the significance of post-production in streaming to ensure that films and series meet industry standards and viewer expectations.
Session 6: Connecting Cultures: Navigating The Dynamics of Distribution with Sales Agents and Distributors
4:10 PM - 5:20 PM
Panelists:
Maria A. Ruggieri | Chinese Shadows
Ariel Cayer | Kani Releasing
Tina Tubongbanua | VIVA
Moderator: Wilfredo Manalang
Film sales agents and distributors serve as indispensable intermediaries, playing vital roles in the industry by connecting filmmakers with audiences. Despite their distinct functions and responsibilities, these professionals collaborate seamlessly to ensure each film project reaches its intended platform and audience. This session explores strategies for filmmakers to engage and build connections with both sales agents and distributors, offering insights into navigating the dynamic landscape of film distribution.